IT'S BEEN A PROCESS, BUT THE AUTOMOTIVE INDUSTRY IS BEGINNING TO ADAPT TO DOING BUSINESS IN THE DIGITAL WORLD. FROM NEW AND USED VEHICLE SALES TO SERVICE BOOKINGS AND ONLINE SHOWROOMS, CUSTOMERS ARE NOT ONLY INITIATING BUT SOMETIMES EVEN COMPLETING ALL TYPES OF TRANSACTIONS ENTIRELY ONLINE.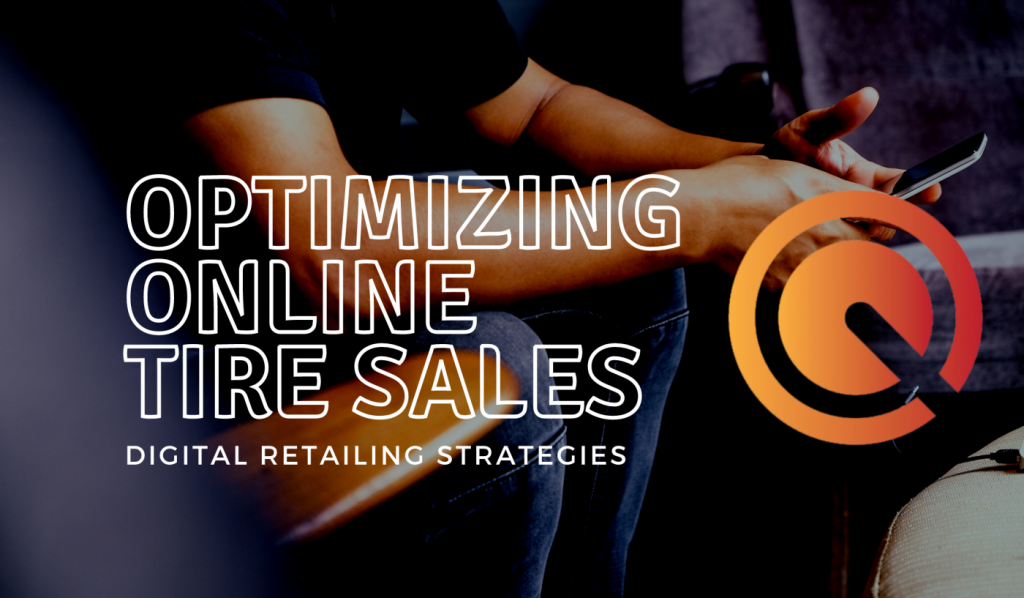 Optimize your online tire sales presence. If this can work for cars, then it can work for tires. There are plenty of ways to optimize your dealership's online presence with the goal of increasing tire sales. Take a look at the list below to see if there are any digital methods for selling tires that you may not yet have considered.
Have a dedicated webpage. 
Your sales department gets the most real estate on your website, and you may also have a dedicated page for service. But do you have a standalone webpage for tires? This is very important not only for increasing your customers' awareness of your tire expertise but also for ensuring your dealership comes up in online searches for tire sales in your local area.
A dedicated webpage can be a one-stop source for your customers, highlighting everything from expert advice—including photos and videos that demonstrate unsafe tire wear—to announcing your seasonal sales. And embedding a tire quotation tool allows a customer to search quickly and conveniently for best-fit tires and wheels, which makes it that much easier for your parts department to serve that customer's needs.
Employ social media and email campaigns. 
Selling tires effectively online is about much more than raw numbers: it's also a chance to demonstrate your expertise to your customers so that you're top of mind when the subject of tires comes up. Your dealership has much more expertise in your brand's vehicles than any aftermarket shop ever could. Let your customers know it by using social media and email campaigns to recommend appropriately resized winter tires for your most popular nameplates, offer education on how to know when tires need to be replaced, and much more. For peak effectiveness, these campaigns should direct back to your dedicated webpage and online tire selection tool. This is also an excellent way to announce specials on winter tire and wheel packages or seasonal tire change service, especially since social media and email can easily be shared and generate word-of-mouth marketing.
Use an email booking reminder system. 
If a seasonal tire change service reminder comes from your dealership, there's an increased chance that the appointment will come to your dealership, especially if it's easy to book online with a couple of clicks. This is even more important for your customers who have their second set of tires in storage with your dealership: it gets more customers through your service bays early, and any damage or wear concerns can be dealt with well before the busy season starts.
Check your progress by examining your online conversion rates. 
It's important to take these steps, but it's just as important to know that they're working. According to automotive digital marketing consultants Hedges and Company, a well-executed automotive parts website should be producing a conversion rate from inquiry to sales of 1.5% or higher. "Some websites will convert at a much higher rate (while a) conversion rate under 1% makes it more difficult to operate a profitable website," according to the company's Conversion Rate Optimization Case Study.
Optimize your online tire sales presence. Be the customer and test these methods for yourself. 
It's a great idea to put yourself in the role of the customer and try out the systems your dealership has in place to ensure everything works as expected. Do the links work on your latest email campaign, and can I easily book a service appointment online? Does your online tire quoting tool produce a professional-looking quote with a simple and easy-to-understand list of options? Finding potential issues and pain points before your customers do keeps them engaged in the sale and your operations effective and professional.
Your new inventory feature is a BIG BRAIN idea - the best new feature you've ever had! Everyone in the dealership can easily see tire inventory now."
I like QQuote because I can quickly and accurately price tires and accessories, allowing me to efficiently get through the busiest times of the year.