Planning ensures a profitable winter tire season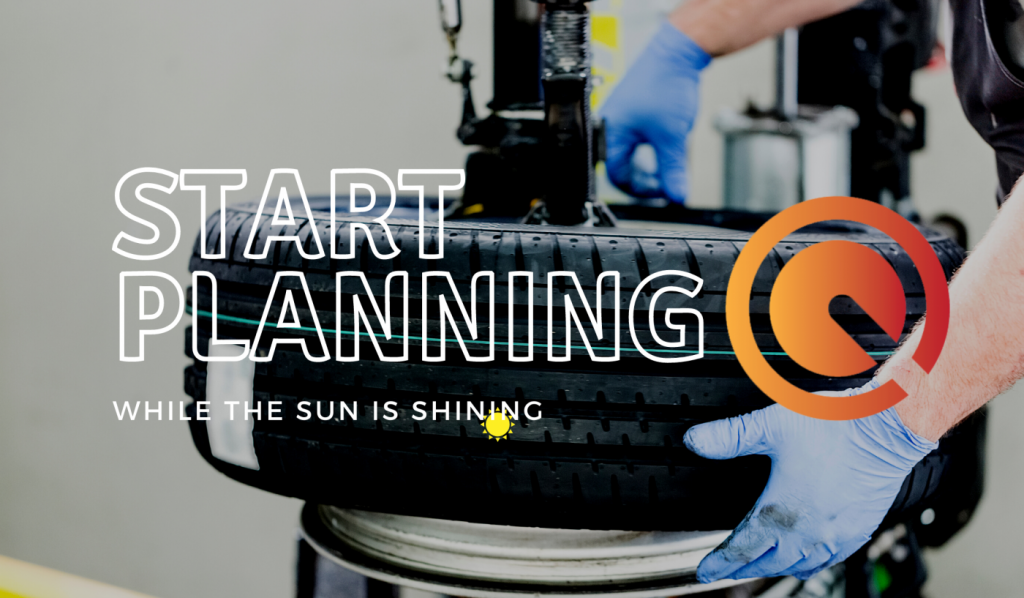 Update June 22, 2022
By now, we've all seen that Game of Thrones-themed graphic circulating online: "Brace yourselves, winter is coming."
Rarely has that phrase been so apt as when it's applied to tire change season. We all know it's coming, and we're all too aware of the challenges that will come with it: scheduling nightmares, overworked service bays, and panicked customers who wait until the last minute and then discover unexpected tire damage. It'll send a winter chill through you just thinking about it, and the weather hasn't even started to turn yet. 
The weather is precisely why now is the perfect time to start planning. Your customers won't start thinking about their winter tires until they're pulling their scarves and mittens out of storage – that is, unless you remind them and entice them to be proactive with attractive pricing and booking options. And to do that effectively, you need to be ahead of the game and ready to start communicating with your customers as soon as they're transitioning into a fall mentality. Not only will this increase your sales and improve customer satisfaction, but it will also get some of your customers into your service bays earlier in the season, freeing up more time in the peak months for the stragglers.
Start planning now with these effective strategies to help you jumpstart winter tire season.
Begin contacting customers who have damaged tires in storage. 
If your team made a list in the spring of tire sets that went into storage with low tread depth, bulging, cracking, or other issues, now is the time to make the most of that advance preparation. Reach out to each of those customers by email or text message, ideally including a picture of the damage, and supply a professional-looking quote for appropriate replacements. Many of these customers will be delighted to have this brought to their attention now, while they can take their time on decisions and plan their budgets, instead of dealing with a last-minute rush in November.
Plan an email awareness campaign for September. 
The best timing for this can be different across the country. In some places, it's most effective to wait until the first chilly day; in others, customers are ready to think about autumn tasks as soon as the kids are back in school. Whatever scheduling you choose, now is the time to do the prep work on a campaign delivering attractive pricing for tire and wheel sets as a limited-time offer. Don't hesitate to require that these customers have their new tires installed by the end of October: the whole point of luring them in with an early bird deal is to help take the load off your staff come November.
This year, consider sending this campaign to every customer who has bought a car from you in the past two years. Many customers who bought new cars in the first months of the pandemic skipped buying winter tires because they weren't expecting to drive often. Today, those customers may rethink that decision if they're back in the office or considering winter travel. It's not a bad idea to address those potential uses directly in your campaign materials to get your customers thinking about their current needs.
Map out a flex pricing strategy. It's no secret that airlines spike their prices in periods of high demand, and the same concept can help optimize your dealership's profitability throughout tire change season. Once the first round of early booking has passed and we get into the busiest weeks and months, QQuote data shows that customer priorities shift away from price and into speed and convenience. Your parts desk can start to raise prices as the season progresses, and aligning these increases with the rollout of manufacturer tire rebates can help ease the shift for your customers. To entice more of your customers to buy full wheel and tire sets – which make life a lot easier for your technicians, so it pays in the long-term to help these buyers out – consider having a dedicated service bay assigned to completing next-day or two-day installations for premium purchases, or to let existing customers jump the queue for an added surcharge.
Start planning now to employ these strategies today, you'll set yourself up for a positive and profitable tire change season – and your staff may not end up dreading winter so much after all.
Your new inventory feature is a BIG BRAIN idea - the best new feature you've ever had! Everyone in the dealership can easily see tire inventory now."
I like QQuote because I can quickly and accurately price tires and accessories, allowing me to efficiently get through the busiest times of the year.